Director's Greeting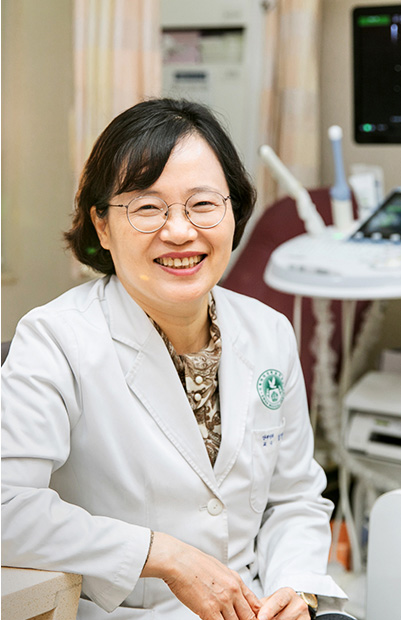 Welcome to Ewha
Institute of Convergence
Medicine!
Descended from its predecessor 'Pogoonyogoan(普救女館)' founded in 1887, Korea's first medical institution for women, Ewha Womans University Medical Center established Ewha Womans University Mogdong Hospital in May 1993, and established Ewha Cancer Center for Women in March 2009, followed by the opening of Ewha Womans University Seoul Hospital in February 2019.
Now, we are facing a very important moment of strategic position between hospitals in the southwestern district of Seoul, to be qualified as a global research-oriented university hospital.
The Clinical Trial Center, Medical Device Clinical Trial Center, Core Lab, Human Derivatives Bank, Technology Commercialization Center, Startup Company Support Center, and Animal Lab Facility have been under the Institute of Convergence Medicine – these eight laboratories are all working together to promote interdisciplinary and convergence research.
Our eight research centers include the Institute of Brain Medicine, Cardiovascular Research Institute, Ewha International Health Medical ODA Research Institute, Ewha Skin Health Research Institute, Fine Dust Clinical Arbitration Research Institute, Low Fertility Research Institute, Precision Medical Research Institute, and Ewha Medi-Tech Research Institute.
Professors in the Institutes are actively conducting convergence research by combining various disciplines such as medicine, engineering, pharmacy, nursing, health, genetics, statistics, etc., especially leading the trend of the 4th Industrial Revolution and AI technology.
The Ewha Medi-Tech Research Institute, which was formed by mutual cooperation between medical and engineering schools, has been working to solve the problems that need to overcome in the real clinical fields through seminars between researchers, medical devices and technology development that can be applied in the medical field, and receives government research funding and advanced medical care achievements in device development.
Along with the opening of Ewha Womans University Seoul Hospital, located at the Magok District Miracle Medical Specialized Zone in Gangseo-gu, the Institute of Advanced Biomedical Sciences was newly established. Ewha Advanced Convergence Research Cluster, which connects the triangle of the hospitals' advanced biomedical research institutes, is the foundation for a new leap forward.
We, Ewha Institute of Convergence Medicine, are committed to fulfilling our role as a compass for Ewha Medical Center's unique medical convergence research under the slogan of EU=MC2, that is, Ewha Uniqueness for Medical Convergence Compass.
In addition, Ewha Womans University established an industry-academic cooperation center in Ewha Womans University Mogdong Hospital to lead research for the unmet clinical needs in medical fields through close collaboration between research institutes, corporations, universities and hospitals based on technology developed here.
We will continuously do our best to lead the so-called Kim Ok-Gil industry-academic cooperation center in the near future to become a mecca for advanced research on convergence medicine at Ewha Womans University.
Thank you.
Hyang Woon Lee, MD, PhD
Director, Ewha Institute of Convergence Medicine